IPO's Kevin Jahnke to speak at the Detroit Commercial RE Summit
Bloomfield Hills, MI – September 9, 2021
Midwest Real Estate News is holding the seventh annual Detroit Commercial Real Estate Summit on October 28, 2021. IPO's very own Kevin Jahnke will be one of the speakers at the event, and A.J. Beachum will be moderating. 
The summit, held from 8:15 am–12:00 pm EST at The Westin Southfield Detroit, will address the current state of the Detroit multifamily market and forecast in which direction the market is moving. 
Topics are to include: New Development vs. Existing Rehab – Where are the opportunities and why?; How does the Detroit Apartment Market compare with rest of the U.S.?; What continues to drive the Detroit Apartment Market and where are we trending?
You can find the Link to Register Here.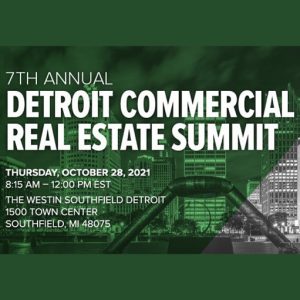 ---
---
---
Income Property Organization in Bloomfield Hills, Mich. offers customized multifamily brokerage services that are designed to meet the specific needs of a wide range of clients — private owners as well as institutional investors — who want to buy or sell multifamily assets. To learn more or inquire about multifamily investment opportunities, contact IPO at (248) 932-0300.