Income Property Organization forms New Partnership with District Capital
Bloomfield Hills, MI – September 15, 2020
Income Property Organization, Michigan's largest privately held multifamily brokerage company, has recently announced their new partnership with District Capital.
As Michigan's leading mortgage banking firm, District Capital provides strategic solutions for real estate capital concerns by leveraging their collective knowledge base, extensive experience and unsurpassed senior level lender relationships to offer the most innovative, forward thinking capital market solutions.
Independently, these two firms lead their respective industries in total deal volume, much of which is repeat business. The collaboration between these two companies brings clients decades of experience, as well as billions of dollars in transaction volume.
"We're thrilled to be partnering with District Capital," says Greg Coulter, Managing Member and Founder of Income Property Organization. "Our focus is always on offering the highest level of performance for our clients, and this will help us meet their needs even better."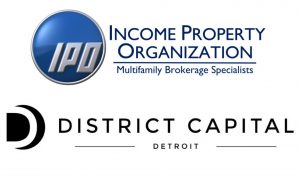 ---
---
---
Income Property Organization in Bloomfield Hills, Mich. offers customized multifamily brokerage services that are designed to meet the specific needs of a wide range of clients — private owners as well as institutional investors — who want to buy or sell multifamily assets. To learn more or inquire about multifamily investment opportunities, contact IPO at (248) 932-0300.