IPO 2nd Quarter Report
June 30, 2022 – Bloomfield Hills, MI
IPO is pleased to announce our 2022 multifamily investment sales through Q2 for the Midwestern markets we serve. Overview statistics coupled with a current market outlook are shared below. IPO continues to broker apartment communities as quickly as we can source the deals. The YTD numbers are eye-popping, with over $375,000,000 in sales volume, reflecting nearly 4,000 units and 50 different communities. Quarter-over-quarter we have seen a slight decline, but we expect sales to pick up as many "wait & see" investors have decided now is the time to sell with the rapid spike in interest rates.
Q2 closed with over $150M in transactional volume
20 investment sales transactions reflecting 1,521 units in total
Major Midwest markets: Battle Creek, Columbus, Detroit, Flint, Fort Wayne, Indianapolis, Kalamazoo, Toledo
Notwithstanding the recent uptick in interest rates, IPO is very bullish on both the operating fundamentals and the transactional outlook based on the current economic climate, and we are carefully monitoring many data sources daily to keep our finger on the pulse of all things pertaining to the future of our industry, and in particular, valuations. Thus far, interest rate increases have been offset by the strongest rent growth on record for the apartment industry, averaging nearly 10% year-over-year in most Midwestern markets. The "net spread" for apartment investors has increased when a careful analysis is done on the rate hike versus rent growth and our pipeline has proven resilient. There is a new headwind for apartment investors: Your loan is now more costly, but the rent growth has resolved that already. IPO expects rent growth to remain very strong as far as the outlook stretches and we expect interest rates to moderate once the final projected rate hikes are posted this year. The Fed may even back off the projected hikes or even reverse them, as they did in 1994 after the then historic rate hike; 2 meetings later the Fed erased the rate hike. Never say never! As the rate increases have been accelerated over the past 90 days, we have seen a dip in pricing for tertiary markets along with lower sales volumes. The overall operating fundamentals of the business are outstanding, and both equity and debt investor demand is very strong in this inflationary environment. As it has been for the past 5 years, it is still an excellent time to be both a Seller and a Buyer of apartments.
We would like to thank our clients for entrusting us with your multifamily investment brokerage needs. Our goal is to build partnerships that stand the test of time and deliver significant value for our clients in the process, creating generational wealth.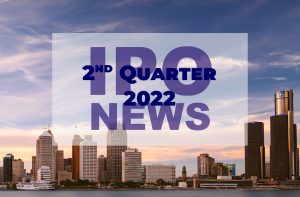 ---
---
---
Income Property Organization in Bloomfield Hills, Mich. offers customized multifamily brokerage services that are designed to meet the specific needs of a wide range of clients — private owners as well as institutional investors — who want to buy or sell multifamily assets. To learn more or inquire about multifamily investment opportunities, contact IPO at (248) 932-0300.